Soon It Will Be Legal in Canada to Challenge Someone to A Duel
The Liberal government wants to 'modernize' the Criminal Code
We all thought the days of challenge someone to a good old-fashioned duel were behind us. But, the Liberal government intends to change that by making challenging someone to a duel completely legal in Canada.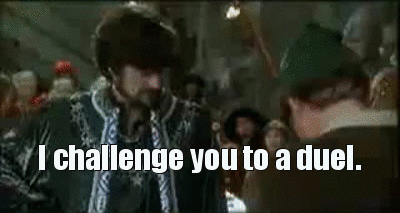 The Liberal government announced last week that they plan to make it completely legal for Canadians to accept or invite a duel.
Justice Minister Jody Wilson-Raybould announced last week that some 'obsolete' and 'redundant' provisions in the Criminal Code would be removed to update and modernize the criminal justice system.
I'm proud of our progress in updating & modernizing the Criminal Code. We have more to do, and every step helps. https://t.co/dZHqDsrNAd pic.twitter.com/xtM7SKdufV

— Min. Wilson-Raybould (@MinJusticeEn) June 6, 2017
Anyone who "challenges or attempts by any means to provoke another person to fight a duel" could have faced a maximum punishment of up to two years in jail, according to s.71 in the Criminal Code.
According to the Ottawa Citizen, the last person who died in a duel in Canada was in 1833 in Perth, Ontario. Two men were fighting over the affections of a young school teacher.
Other outdated laws scheduled to be repealed include:
pretending to exercise or to use any kind of witchcraft, sorcery, enchantment or conjuration
publishing blasphemous libel
possessing, printing, distributing or publishing crime comics
issuing trading stamps
advertising a reward for the return of stolen property "no questions asked"